The IPL triumph given Kolkata a new icon and renewed zeal to chase bigger victories. Kolkata got their new
Khan dada
and
Gautam Gambhir
as the sons of Bengal. More than one Lakh people were out of their homes to get a glimse of King Khan on the streets of Kolkata. Around 70,000 people accumulated at the Eden Gardens to watch KKR team and Shahrukh Khan celebrate their victory.
Kolkatans were split in their opinion about the delirious celebrations on Tuesday. But they were quite unanimous in the feeling that the city now looks upon Shah Rukh Khan as one of its own.
It's not often that Kolkata emerges on top in any national event, pointed out psychologist Dola Majumdar. "Naturally, Kolkatans were eager to make sure that the victory was duly celebrated. Shah Rukh Khan's presence converted the celebration into a hysteria.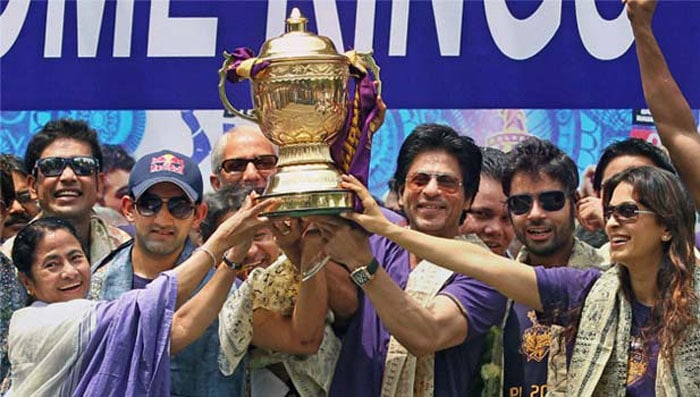 You had India's biggest star asking you to savour our city's success. Sourav Ganguly may not have been there but SRK made sure that he wasn't missed. Sourav Ganguly have failed taking KKR to the top, so people of Kokata hardly missed him on this celebration day. Even this season Ganguly played against KKR leading the Pune Warriors Team, and placing the team at the bottom of the charts. Many people are of the idea that Ganguly 's depature from the team KKR has proved beneficial for the team. People needed an icon to serve as the icing on the cake and Shah Rukh provided just that.
The jamboree was Kolkata's way of trying to get over the all-round gloom that prevails in the state, argued psychiatrist Gautam Ghosh.
"We have been falling short of our own expectations far too often, especially in sport. No one follows local football keenly any more. In cricket, we have rarely triumphed. So, an IPL win was a nice way of asserting our supremacy in a field in which we have never dominated. The fact that we had SRK leading the charge from outside the field gave us a sense of getting even with the rest of the country. This hysteria might translate into some positive energy," Ghosh said.
The mass hysteria seen all along the victory march and at Eden Garden where the team members shook a leg with SRK in the presence of chief minister Mamata Banerjee was a great thing to see, feels fellow psychologist Indrani Dutta. Mamata Banerjee is the one to be praised for giving the idea of celebrations and then arranging for such a wonderful event in such a short time. It is rightly pointed out as true 'Paribartan' by governor M.K Narayanan.
"It was not just a cricket victory that was cheered. What we witnessed on Tuesday was a collective release of pent-up frustration and a zeal to observe whatever success comes our way. The IPL win may not have been reason enough to dance on the streets the way people did. But the heady cocktail of SRK and the Kolkata brand was enough to make people hysterical. After all, we have lost our biggest cricket icon to another team, and we have little else to cheer about. While the celebration was fine, the hysteria can't be justified," said Datta.
Former cricketer Devang Gandhi differed. An IPL victory was awaited for the last five years and the win was obviously going to be greeted with cheer, Gandhi said.
"It had been anticipated since 2008. With a star like Shah Rukh Khan leading the KKR pack, celebrations were obviously going to be colourful. Kolkata is a city of intense, emotional people. We take defeats to our hearts and believe in celebrating wins heartily. This is what we saw on Tuesday. But yes, it should have been a little more disciplined," he added.
Gandhi, however, agreed that the wild scenes were also a reflection of the fact that Kolkata is starved of victories.
With the state government throwing the party, the celebrations were going to defy logic, argued academic Amal Mukhopadhyay. "It had little to do with cricket. People swarmed the streets to see Shah Rukh Khan dance with the team." said Mukhopadhyay.
But most agreed that the victory has placed SRK - and Gautam Gambhir - in every Kolkatan's heart."He has always been a big star. This victory has now got him associated with Bengal, cricket and Kolkata which makes SRK even dearer in this part of the country. He is now a cricket icon as well," said Ghosh. Most were ready to overlook the fact that few local boys wore the purple jersey in Chennai last Sunday. What mattered was the team that the city had been rooting for had finally triumphed.
Check out the exclusive vedio of Shahrukh Khan and Juhi Chawla dancing to the tunes of bengali songs.