Reactions from the Bollywood film fraternity is pouring in after King Khan aka SHAHRUKH KHAN's Kolkata Knight Riders won the 2012 edition of IPL.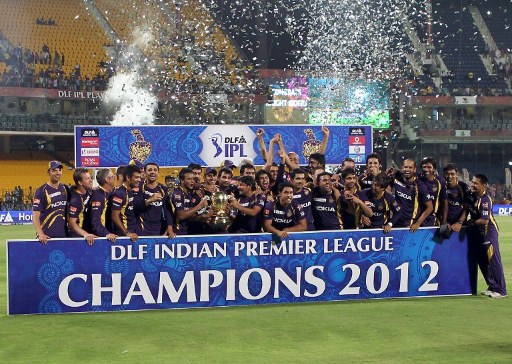 Kunal Kohli - The most touching moment of the match was when SRK's daughter hugged him all tense & he comforted her. What a sweet moment that was :-)
Mushtaq Shiekh – KKR are the champions!! SRK dream has finally come true!! Today he stands on top of the heap!! Shukar Allah!!
Dabboo Ratnani – Wow!!!! We won!!! Ecstatic about the win!!! Sending lots of love to KKR & hugs to SRK

Juhi Chawla

Raima Sen

– KKR welll played.. yippe.. happy to be in Chennai.. time to celebrate
Raj Kundra – SRK so happy for you!! Congratulations and well deserved!! Baby K waiting for the cup now! :)
Kumar Taurani – Congratulations KKR CSK, u r also champions.. Tough fight

Lara Dutta

– KKR it is!!!!
Sanjay Duri – Heartiest Congratulations Juhi Chawla SRK and KKR team.
Sophie Chaudhary – WHAT A MATCH!! What an incredible Final!! And YES!!!! NEW IPL CHAMPIONS!! KKR. My heart won! Thrilled for SRK! Truly well deserved!
Lalit Modi – Kkr kkr. Kkr. Love it. Congrats. Great Game. Showed one and all. Love it. Yeh hai ipl
Karan Johar – Yayyyyyy!!!! More power to team KKR and SRK!! And what a match!!! KKROCKSSS Congratulations Juhi Chawla!! The new victorious team KKR!! Lots of love!!

Anubhav Sinha

– You are all welcome to the party… Say it louder guys. KAY….. KAY…..AAAAR

Bipasha Basu

– Congrats SRK ! Great win fr KKR!




Bipasha Basu performing at the Opening Ceremony of IPL 5

Shabana Azmi – I know nothing about cricket but I watched d match and prayed really hard for KKR to win! Congrats 2 the team,SRK and Juhi. Maza aa gaya
Neha Dhupia – A match so worthy of being the final… Well played CSK and a huge congratulations to KKR and SRK !
Vijay Mallya – Congratulations to KKR-New IPL Champions. So IPL VI finals will be played at Eden Gardens !!

Farhan Akhtar

– The wait is over. Well done KKR. Congratulations SRK and all team owners, members and staff. Let the good times roll….
Genelia D'Souza – KKR r d Winners, yayyyy, congrats SRK n d team, ul gave us a super game, well played CSK
Preity Zinta – Just landed in India & heard the good news ! Congrats SRK, Gauri & KKR for winning IPL 5 ! I'm sure 2night the Party is not gonna end !
Vishal Dadlani – Congratulations to SRM and the team! Ami Kolkata.. WE RULE!!